Your phone's gesture feature lets you enjoy seamless navigation without worrying about awkward button tapping.
Gesture navigation has been updated on your One UI 2 device to include more choices for swiping around your phone. Easily launch your device assistant when you need to check your calendar or make a call, and bring up your recent apps with a quick swipe.
Note: Some Gesture features will not be available with third party launchers.
Full screen gestures
Start using Full screen gestures to easily control your phone, or if you'd like to remove the navigation buttons from the screen.
From Settings, search for and select Navigation bar. Tap Navigation bar again, and then select Full screen gestures. Once selected, the navigation buttons will disappear from the bottom of the screen. Tap the switch next to Gesture hints if you'd like to see the Navigation bar, which will stay fixed on the screen. Tap the switch next to Show button to hide keyboard to easily hide the keyboard when in Portrait mode.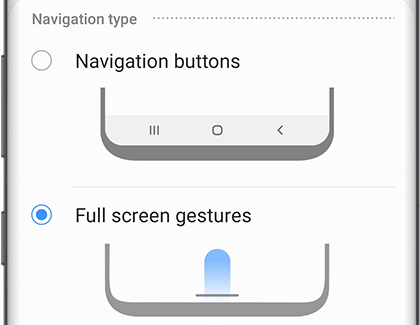 Swipe from the sides and bottom
If you love swiping through your phone, take advantage of the additional features called "Swipe from sides or bottom." As the name suggests, this lets you navigate your phone by swiping sideways or from the bottom of the screen.
Tap More options under Full screen gestures, and then choose the new option for Swipe from the sides and bottom. Here is what you can do with the controls:
To go back to a previous page, swipe left or right on the edges of the screen.
To view your recent apps, simply swipe up and hold.
Swipe up to open the Home screen, and swipe inward from the bottom corners to open your device assistance app.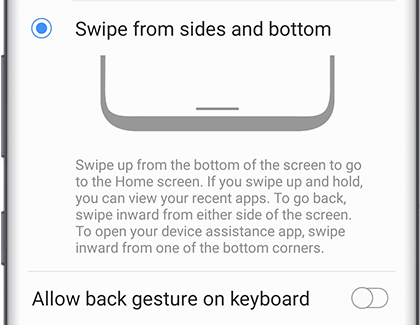 Selecting Swipe from sides and bottom will bring up custom options. Tap the switch next to Allow back gesture on keyboard to use the Back arrow function when typing on a keyboard.
Move the slider to adjust the back gesture sensitivity. If you have a case on your phone, consider using a higher sensitivity, as the edges of the screen might be difficult to touch.