Music Share is a new feature based on Wi-Fi and Bluetooth, and it depends on a Wi-Fi chipset. The Music Share feature can be used with any music application. Devices based on Android 10 OS will support this Music Share feature and available target may differ by device model.
What is Samsung Music Share features?
The Music Share feature allows you to easily share your Bluetooth speaker or headset that is already connected to your device with others. For example, you can play music stored on your friend's smartphone via your Bluetooth car stereo while keeping it and your smartphone connected.
How to set up and use Music Share on the Galaxy S20?
On your connected phone, enable Music share within your Quick Settings menu or Settings > Connections > 3 dots > Advanced > Toggle on Music Share to allow other compatible devices to connect to your Bluetooth Speaker without having to unpair and re-pair.
Ensure that your Galaxy devices have both enabled Bluetooth and Wi-Fi settings and the primary Galaxy phone is connected to a Bluetooth speaker.
1. Access your Quick Settings by swiping down on your screen and tap on Music Share. Long Press
to customize Music Share settings.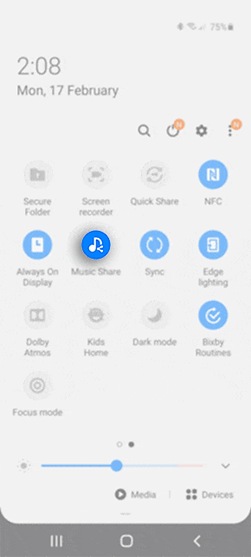 2. Customize your Music Share settings
3. Ensure that you have enabled your Bluetooth settings and search for the Bluetooth speaker. Under Music Share you should be able to locate and select the Bluetooth speaker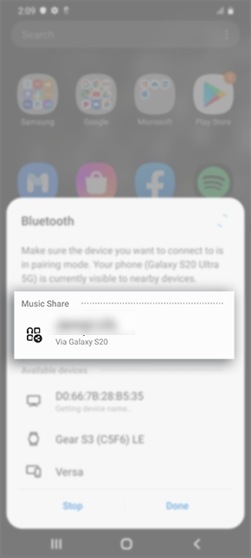 4. On your primary Galaxy phone tap on Allow to connect your Bluetooth speaker to the secondary Galaxy phone. Once connected you will be able to control the Bluetooth speaker from the secondary Galaxy phone.
The new Music Share feature is available on the Galaxy S20 and Galaxy Z Flip.
Note:
When your friend wants to connect to one of your audio devices, they'll need to make sure that Music Share is also activated on their phone. They also need to have Wi-Fi and Bluetooth enabled.
On the friend's phone, open the Quick settings panel. Touch and hold the Bluetooth icon; the phone will automatically start searching for nearby Bluetooth devices. If needed, tap Scan at the top of the screen. Shared devices will appear under Music Share. Tap your desired device. If needed, tap Allow on the other phone to give it permission to connect. Once it's connected, your friend will be able to play music on your audio device.